Special Issue "Next-Generation Crop Plant Breeding Approaches for Resilient Agriculture"
Professors Gianni Barcaccia and Paolo Sambo are Guest Editors of a Special Issue on Next-Generation Crop Plant Breeding Approaches for Resilient Agriculture for the Journal Plants (for details visit https://www.mdpi.com/journal/plants/special_issues/0AS230VO23 via @Plants_MDPI).
This activity is carried out within the Agritech National Research Center, which received funding from the European Union's Next-Generation EU. In particular, it is related to Spoke 4, coordinated by DAFNAE at UNIPD, dealing with multifunctional and resilient agriculture and forestry systems for the mitigation of climate change risks.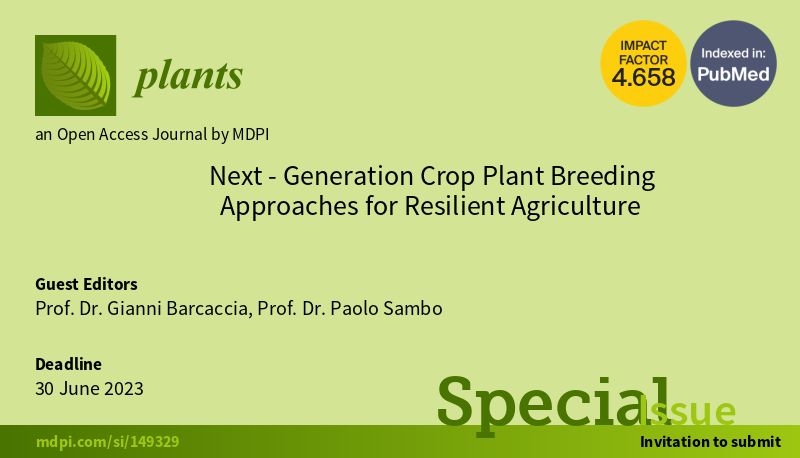 Genetic Structure of Cultivated Varieties of Radicchio (Cichorium intybus L.): A Comparison between F1 Hybrids and Synthetics
Cichorium intybus L., well known in Italy by the common name Radicchio, is an important leafy vegetable that is prevalently reproduced by allogamy due to very efficient barriers of self-incompatibility. Marker-assisted breeding is widely used by seed firms to develop superior varieties that manifest genetic distinctiveness, uniformity, and stability. Here we used a total of 29 mapped microsatellite markers to genotype 504 samples of the Red of Chioggia biotype. Genetic similarity and diversity statistics were computed and the genetic structure of cultivated populations, including OP synthetics, F1 hybrids, and F2 progenies, was investigated. On the whole, this work provides tools and strategies to achieve the molecular characterization and genetic identification of Radicchio varieties.